1. Wat Pho and Wat Phra Kaew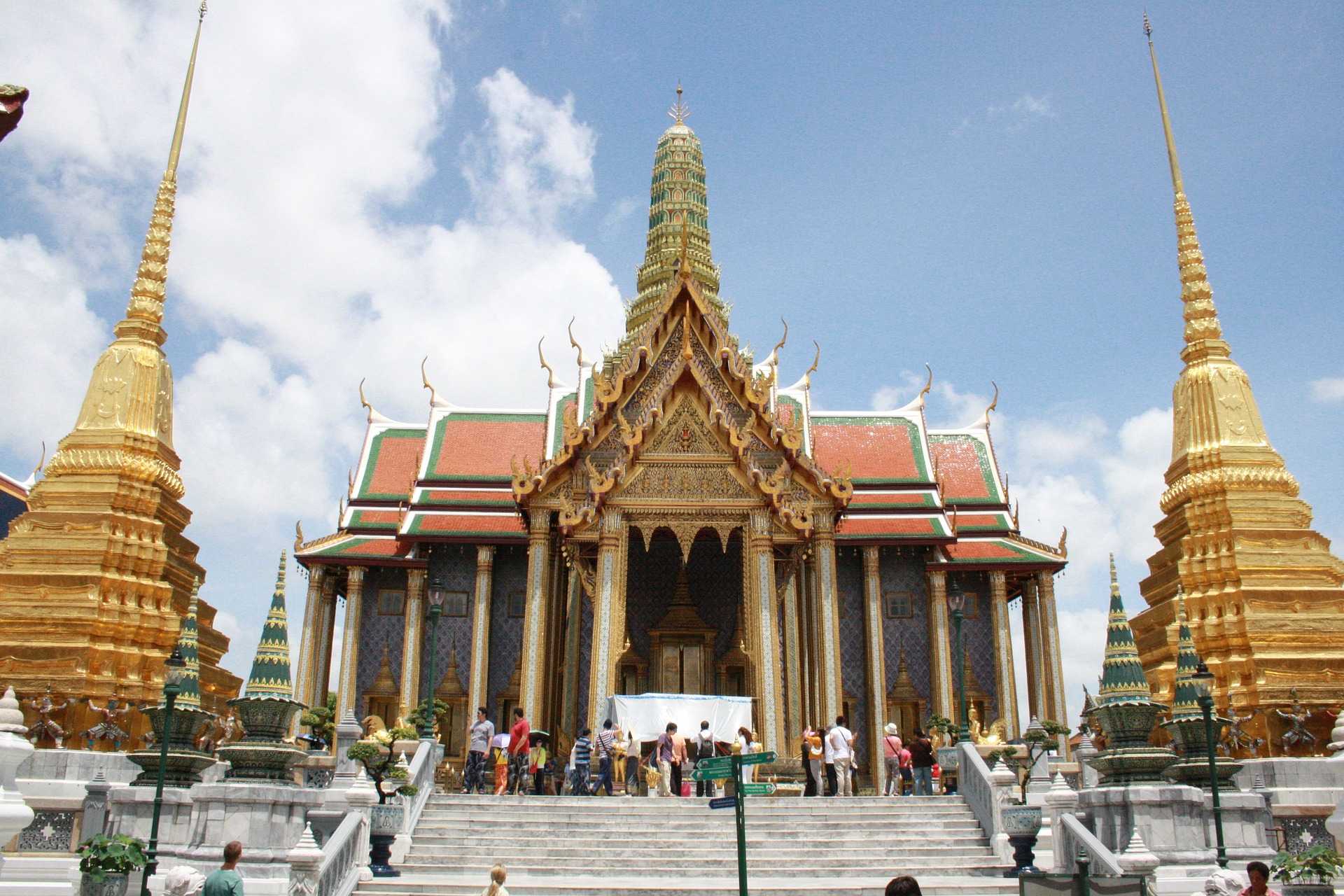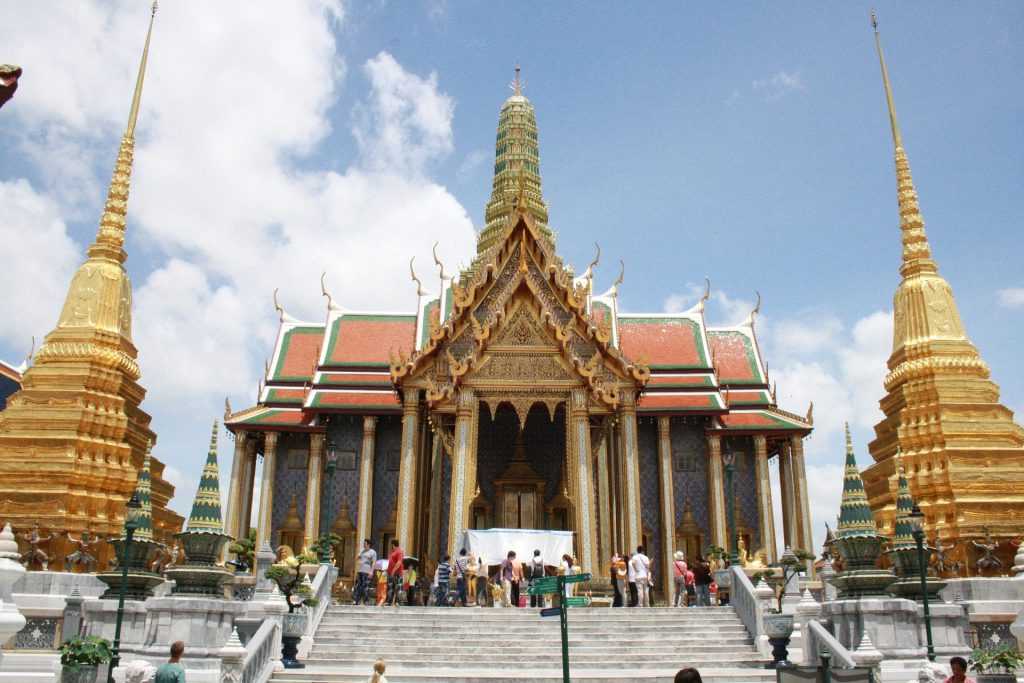 No visit to Thailand would be complete without a trip to Bangkok's most spectacular temples, located in and around the magnificent Grand Palace complex.
Wat Pho, located immediately south of the complex, is the home of the magnificent, gilded reclining Buddha, the largest in the world at a staggering 46 metres long.
Wat Phra Kaew is the home of the centuries-old Emerald Buddha which is shrouded in legend and housed in another incredibly ornate Thai temple building. Both sites are very important in Thai culture and a quintessential part of any tour of the capital.

2. China Town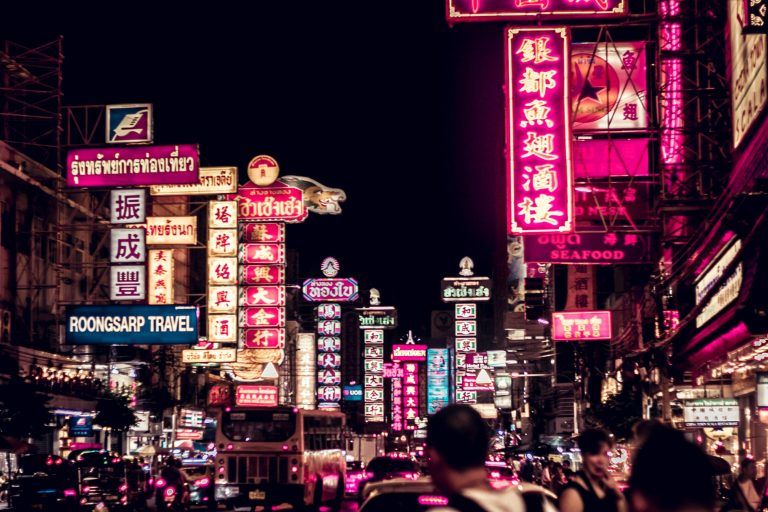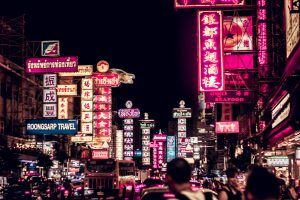 Bangkok's bustling and frenetic Yaowarat Road is the hub of the capital's sprawling Chinatown, littered with an incredible array of markets selling all kinds of goods and foods. The street is famous for its plethora of ornate, illuminated signs for the many gold shops and traders that line the street, which present a fantastic photo opportunity for the budding photographer.
At night, the street comes alive with a dizzying array of food vendors selling everything from noodles and dim sum to exotic seafoods and the ubiquitous Chinese duck dishes. The food is cheap and delicious, plus wandering around the area is a real adventure in itself, an experience not to be missed.

3. Chatuchak Market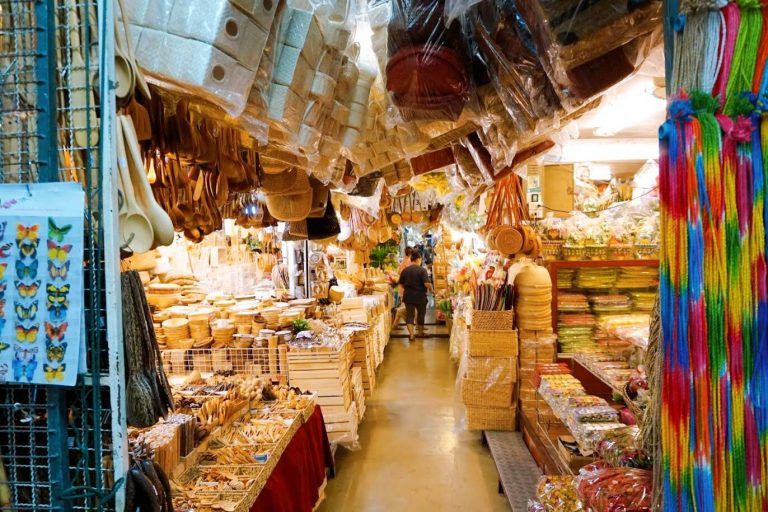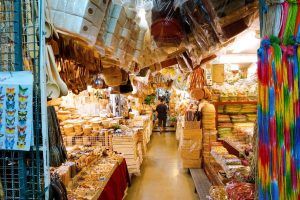 Known locally as JJ market, Chatuchak is one of the world's largest open-air markets with an incredible 15,000+ stalls selling everything from clothes, electronics and foods, to exotic animals, Thai handicrafts and amulets. There's no denying that the market is absolutely vast, and you should allow at least 2-3 hours to browse even just a part of it.
It can get very hot during the daytime, but there are plenty of places to sit down for some refreshments or to enjoy some delicious local dishes such as Thai-style noodle soup, spring rolls and satay sticks. Don't forget to haggle if visiting the market, it's expected by the vendors, and also remember that branded goods are very unlikely to be genuine, so those $5 Adidas trainers might not be the bargain that they appear to be (they will almost certainly turn out to be around 25% glue).

4. Khaosan Road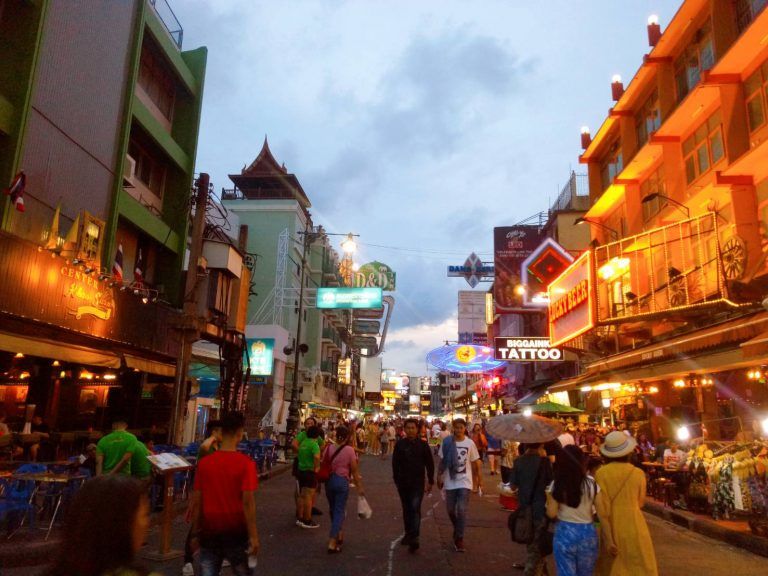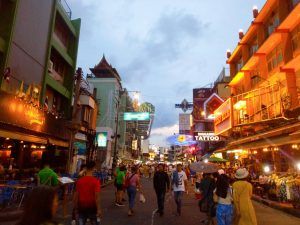 This is arguably where Thailand's thriving tourist trade took off back in the 80's as spare rooms were rented out to western backpackers on shoestring budgets for a couple of dollars a night. The subsequent boom saw the street explode into what you see today; a 400 metre long street lined with budget accommodation, bars and restaurants, aimed at the younger crowd. Things have changed somewhat recently with rates creeping up, but nonetheless, the street is thronged with partygoers every single night.
The mix of tourists and locals looking for a good time creates a heady atmosphere with cheap alcohol deals abound and plenty of thumping music alongside the familiar western fast food joints. Traditionally a great place for young travellers to decompress and meet like-minded travellers whilst enjoying the party vibe and happily avoiding too big a dose of culture shock.

5. Wat Rong Khun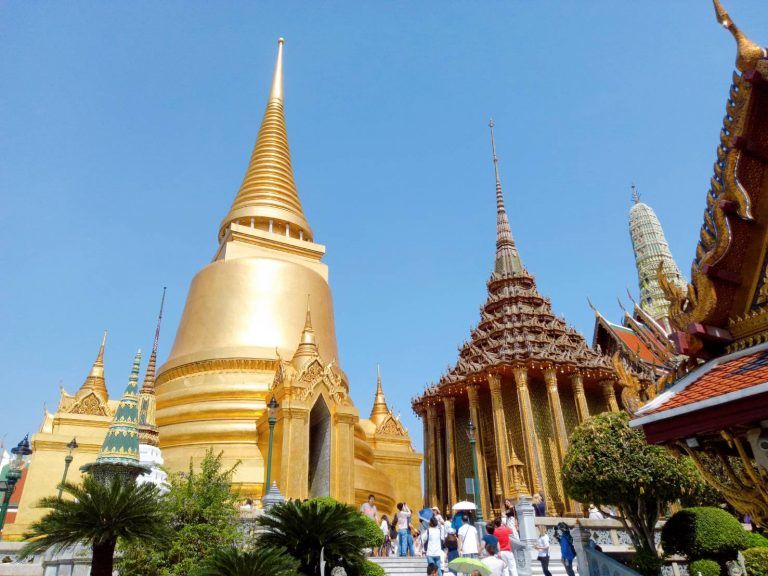 Also known as Rong Khun Temple, is the infamously beautiful white temple located in the far northern province of Chiang Rai. Although somewhat out of the way for many, travellers who do make the journey will be rewarded with one of the country's most unique and ornate temples built in the traditional Thai style with overlapping roofs heavily adorned with exquisite carvings of dragon's heads.
The temple was damaged in the 2014 earthquake but has been painstakingly restored at great expense and is another stunning photo opportunity for the intrepid traveller. A very unique temple experience, and one that you won't forget in a hurry.

6. Thai beaches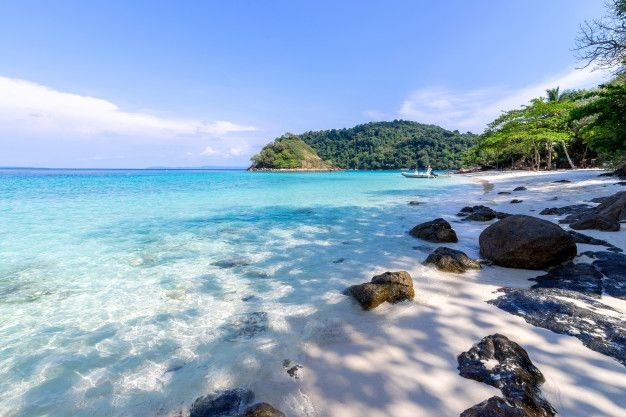 Thailand is a paradise for beach lovers, with world-class, beautiful white sand beaches in abundance across the country. Combined with Thailand's famously good weather and laid-back atmosphere, there are few better places in the world to top up your tan whilst enjoying a cocktail or two, or simply catching up on some serious reading and relaxing.
In addition, Thailand is also a mecca for watersports with everything from wakeboarding, jet skiing and paragliding now omnipresent on the more popular beaches in places such as Phuket, Samui and Hua Hin. Or, if that sounds like too much hard work, enjoy an authentic Thai massage on the sand for as little as 300 baht ($10) for an hour.

7. Floating Markets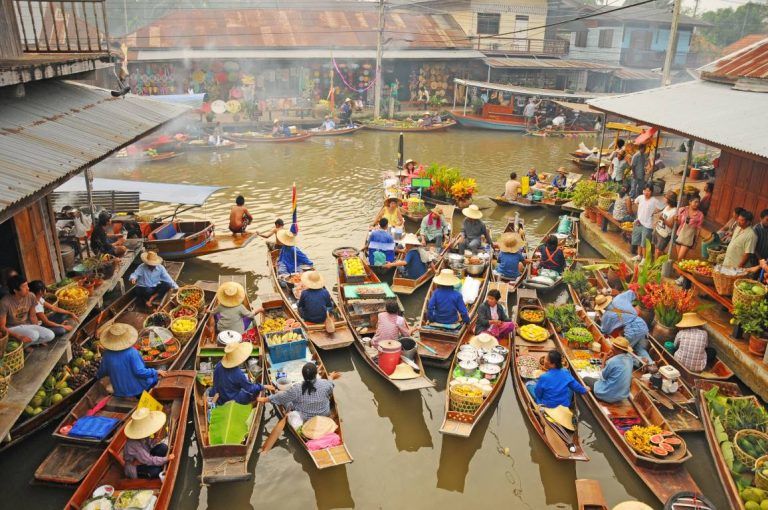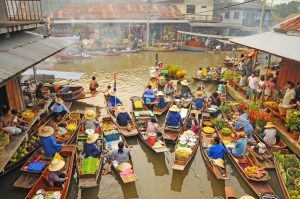 Thailand is home to some stunning floating markets, the most popular of which is the Damnoen Saduak market which is accessible from Bangkok. Although sadly now they are more of a tourist attraction rather than actual working markets where locals buy their produce, they are still a sight to behold with vendors plying their wares aboard handmade boats pottering up and down the river.
The markets are an explosion of colour, with vendors selling everything from exotic flowers to snacks and Thai handicrafts, and are well worth the early start that you'll need if you want to make the most out of your trip. Possibly something of a cliche nowadays, but something you will live to regret if you don't go.

8. ASIATIQUE The Riverfront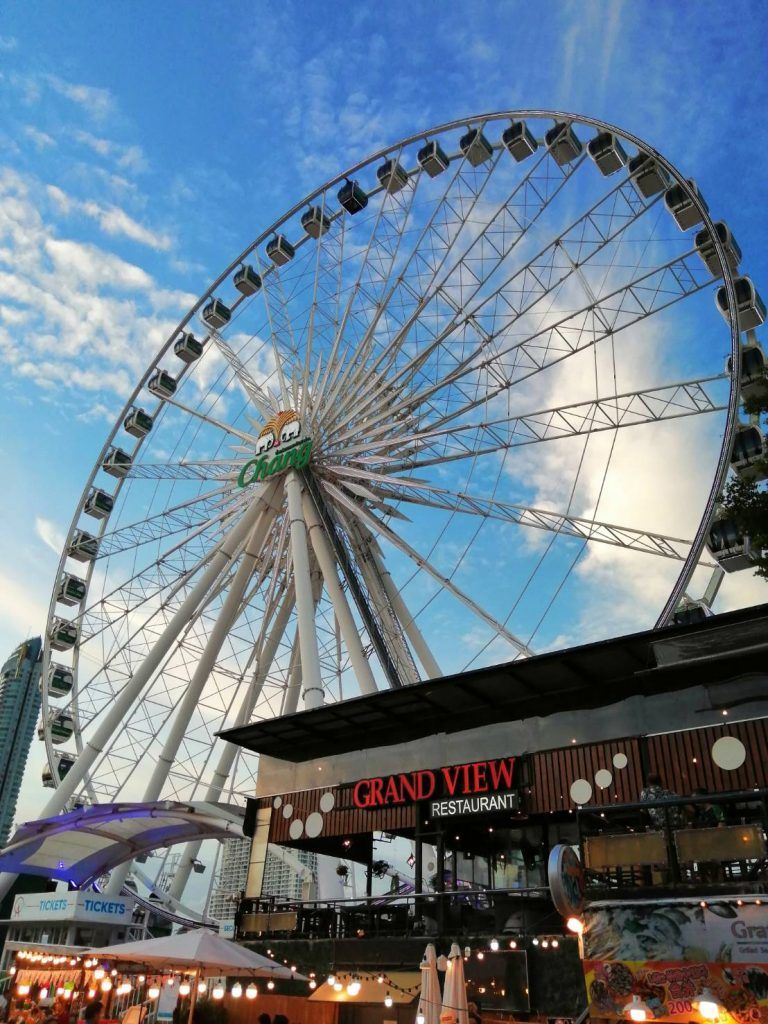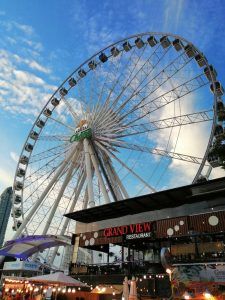 Asiatique is a spectacular, high-end open-air shopping mall located along the banks of the Chao Praya river in the heart of Bangkok.
Separated into themed areas, the mall offers the usual designer outlets alongside a wide array of restaurants, bars and attractions, including Bangkok's largest Ferris wheel and an open-air area where various festivals, celebrations and concerts take place throughout the year.
With food, shopping, boat rides and Thai boxing, it's a great way to spend an evening, just watch the purse strings as it is a more upmarket offering for the capital with alcohol, in particular, being rather expensive.

9. The ancient city of Ayutthaya (once Thailand's capital city)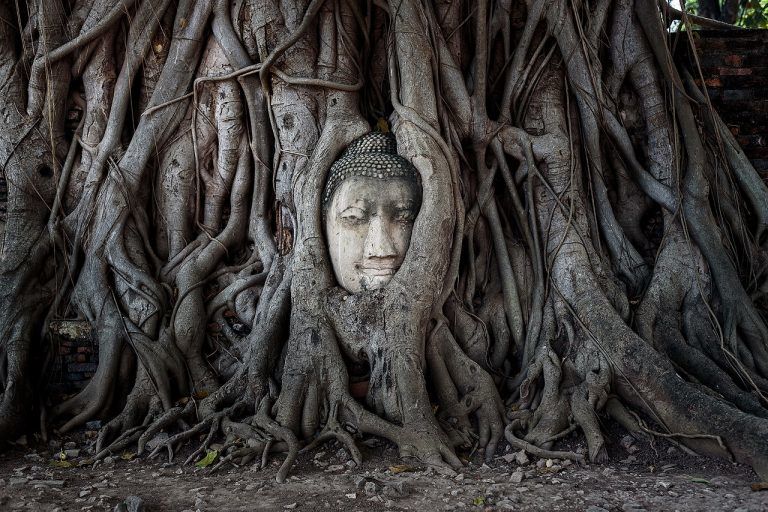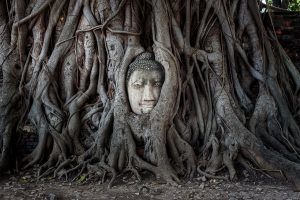 Is only 80km north of Bangkok, and is home to some stunning ruins within the Ayutthaya archaeological park; a particularly rich, sprawling site containing ruins of various statues, temples, ancient palaces and monuments. There's not a huge amount else to see and do in the town, but the park is huge and gives a fascinating insight into the rich cultural history of the country.
Ayutthaya itself has a fairly relaxed vibe and offers a welcome retreat from the chaos of the capital, definitely one for culture vultures.

10. Doi Inthanon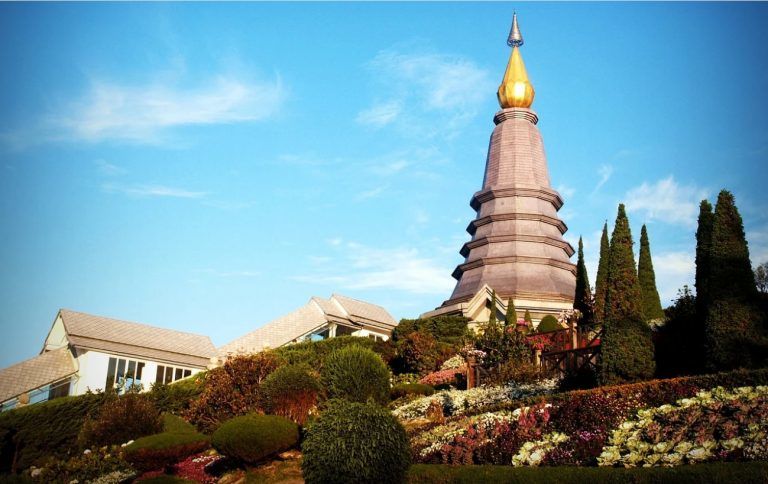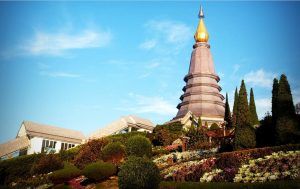 Doi Inthanon is Thailand's highest mountain peak, located in the north of the country in Chiang Mai province. It is a popular tourist attraction with spectacular views which will take your breath away, indeed on a good day, you can see for miles around.
Located within a national park, there are nature trails, waterfalls and the incredible twin Royal Pagodas set in beautifully manicured gardens. If you only make it to one national park during your visit to Thailand, this should be it.