Thailand has some incredible snacks! The flavors of Thai snacks are really different from a lot of other countries, and the most popular offerings are definitely worth tasting – just be careful not to eat a dozen bags all in one go.
The snacks that we're going to be talking about in this article are some of the most popular snacks in Thailand. While there are an awful lot of snacks out there, these ones perform really well across all different categories, and it's easy to see why.
1. Thai Flavor Pringles
These pringles have an amazing taste, we can't put them down! Coming in an orange tube, the flavor of them is 'flame-grilled squid', and that's really what you get!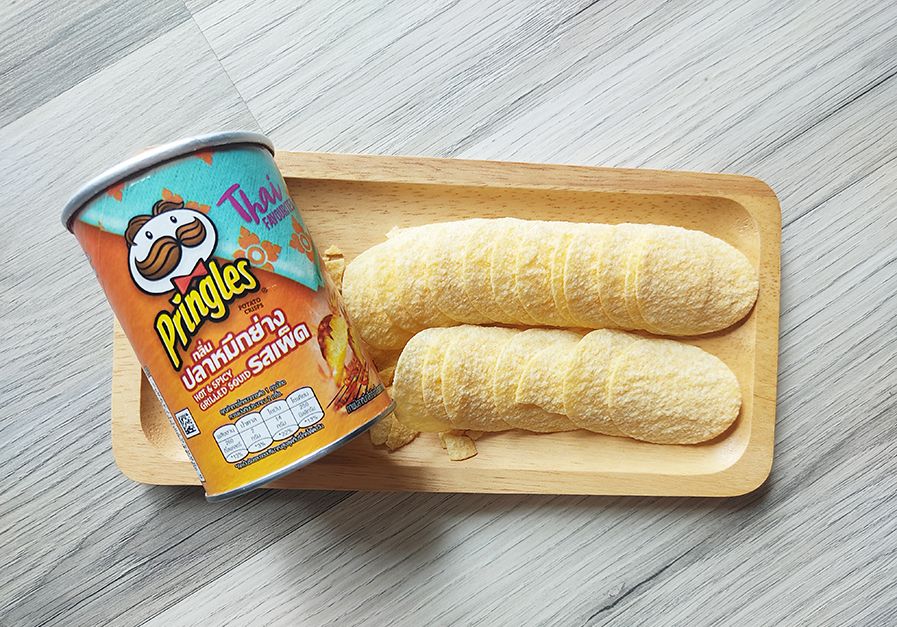 They're gently spicy, and really earthy and rich, just like a wonderful squid dish! The thing that makes these chips so decadent, delicious, and luxurious is the smoothness of the flavor – you can easily taste smoky, rich, earthy squid in every bite. Delicious!
If you wanted to enhance this snack, even more, we'd recommend grabbing some dip to dunk them in. Try going for something very light and acidic like lemon-flavored hummus, it will juxtapose the dark flavor of the chips really easily and well.
2.
Tasto 'Devil' Chips
These chips are some of the most worrying ones that we stock – they're hot and then some! The front of the packet is replete with flames and red text letting you know just how hot they are.
The impressive part is that when you first taste them, they're quite chilled out. There's a little bit of a smoky tomato flavor, and they're maybe a little spicy too. After a few moments, however, a fire starts at the back of your throat and, in no time at all, spreads to your lips and tongue! The smoky heat is truly powerful and impressive, really delicious for any spice lovers out there.
3.
Snack Jack Pea Snacks
These are a wonderful snack that we always keep a few of in our personal stash – they're so moreish! The pea snacks aren't fried, instead, they're gently cooked and you can really tell!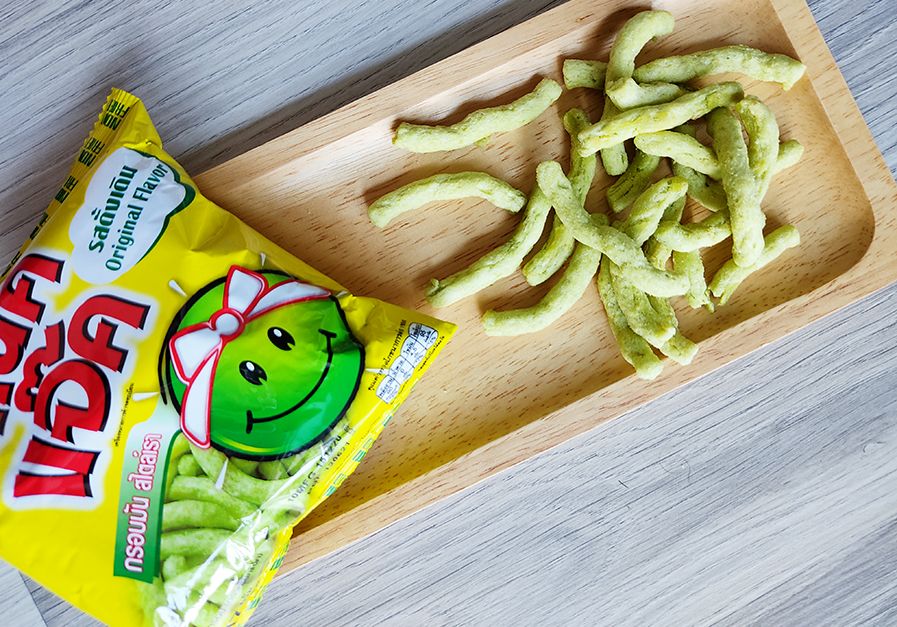 The snacks themselves are chunky, crunchy, and have such a great texture. They're both dense and light while being gently salted at the same time. The flavor is just like peas that you'd have with dinner. After all, that's what they're made from! These are some of the most moreish snacks we stock, we recommend them to everyone!
If you were looking for a dip to pair these with, we'd recommend something that was smoky and hot, like a chipotle sauce. That spiciness will work really well with the pea flavor!
4. Tomato Chips
These are another delicious snack which, honestly, you can't really find anywhere else around the world – tomato-flavored snacks can be quite unpopular! These are delicious, and we really love them.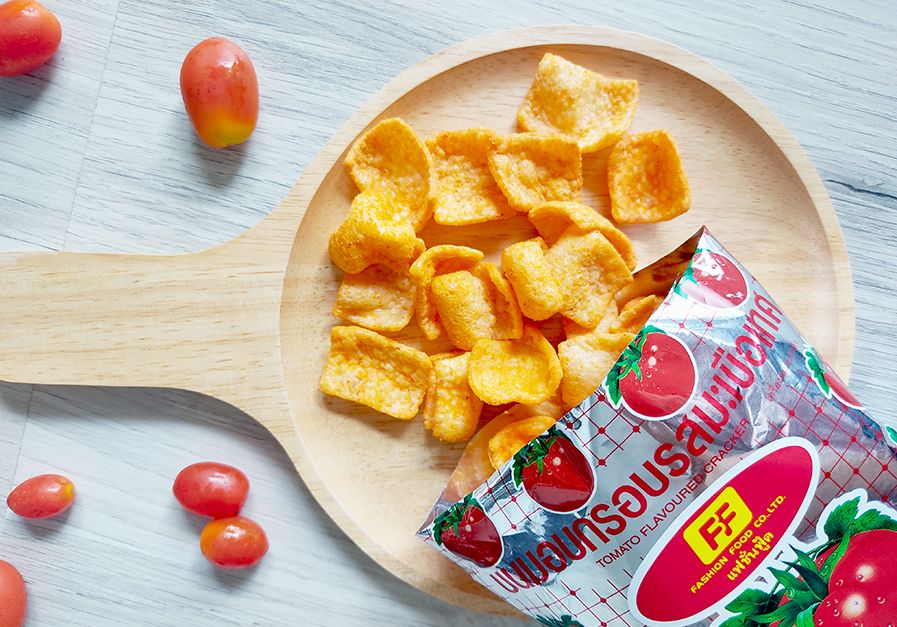 These genuinely taste just like the greatest tomatoes you've ever had – they're sweet, salty, and really nicely acidic. They're the kind of thing that you could easily put away a whole bag of in no time at all, the snacks are light and delicious.
5.
Lays Thai Chips
These chips are super good! There's an unusually complex flavor evolution within the chips themselves, from sweet to acidic, to a little bit smoky underneath it all.
One flavor that we can really taste in these delicious chips is tomato, like an authentic Roma tomato that you'd use for a great sauce! They're really light, and just gently acidic too, it's truly a taste sensation.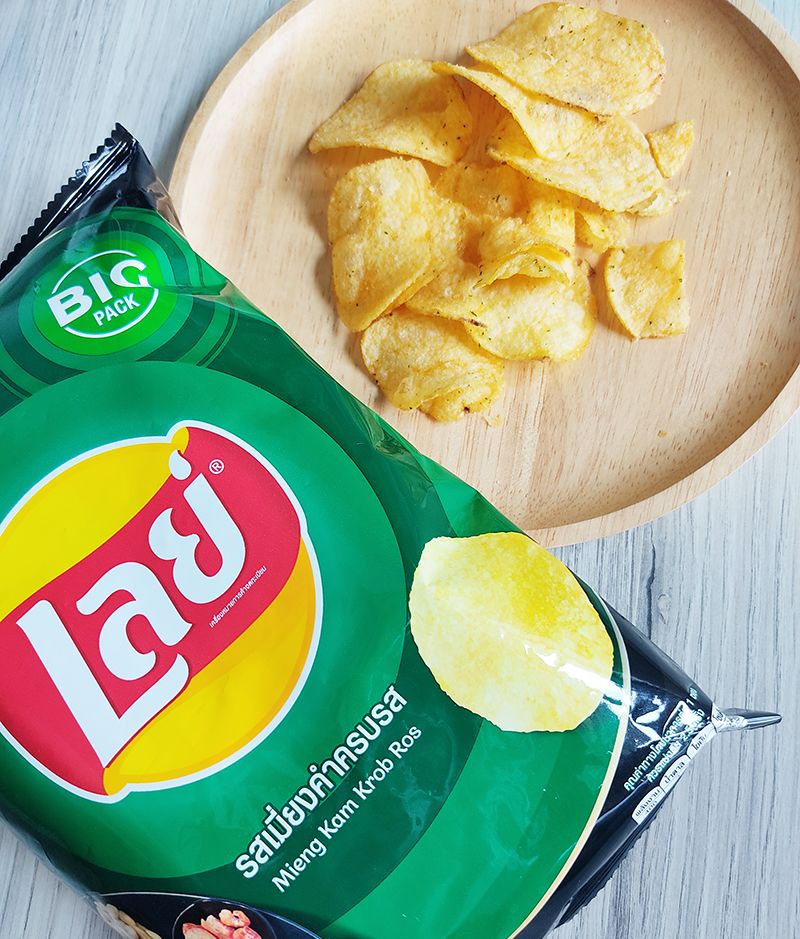 These snacks are all really delicious. They're really varied in their flavors, and while that might mean that they aren't all to your personal preference, we'd definitely suggest giving them all a go – there isn't a single one that we don't adore!
If we had to pick just one or two from this article that we love more than the others, then we'd have to go for the snacks jack pea snacks, and the lays 'devil' flavor. They're such great snacks – they scratch the itch for savory food that a lot of snacks can't quite manage, and they're pleasantly filling too. The snacks jack are incredible – chunky, crunchy, and tasty – we might just have to go to the store for some right now…